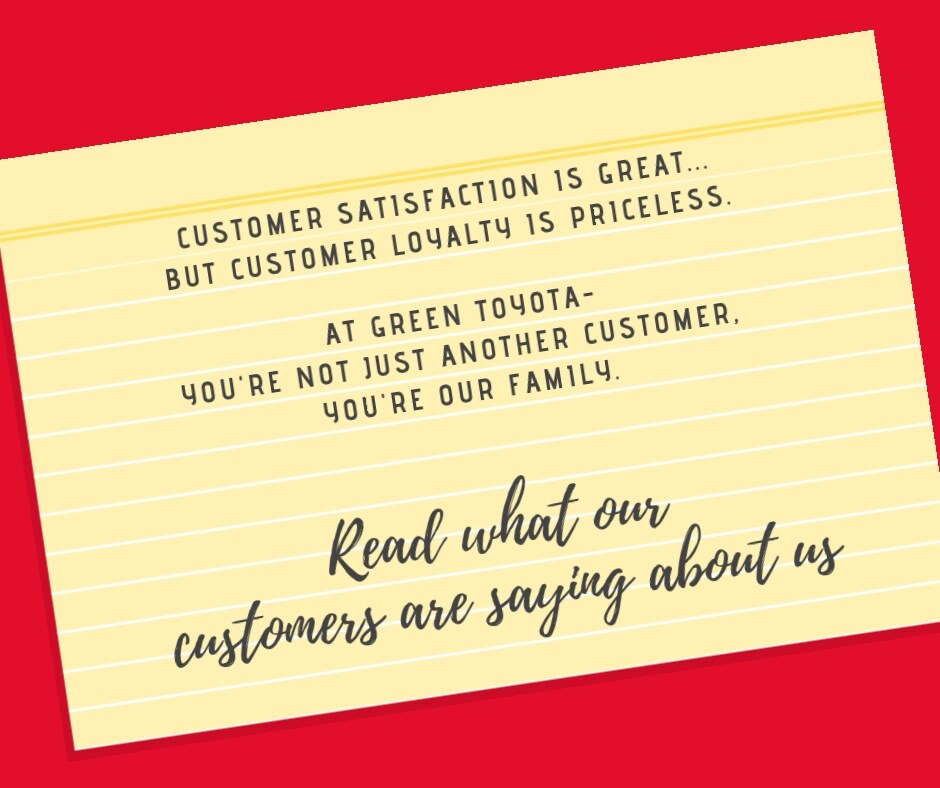 ____________________________________________________________________
Read some of the Green Toyota dealership, Springfield IL customer reviews below.    
Jessie on Green Toyota Facebook page:  
We just got a 2014 Toyota Prius!  We love it!  Everyone at the dealership was great!  Greg sat in the car with us for 25 minutes explaining everything to me til I was done asking!  Everyone we talked to were all very nice and accommodating!! 
Reggie on Green Toyota Facebook page: 
Class act!!  The entire staff will go out of their way to meet and exceed your expectations!  Expect nothing less. 
Jenny on Green Toyota Facebook page:  
Wonderful place to purchase a car... we have purchased 6 from them and have always been very happy! 
 The sales and service staff rock!
Brendon on Green Toyota Facebook page:   
Contacting dealerships are often a frightening thought.  You think, "I'm gonna get ripped off" or "This guy/girl just wants the sale and I'm just a number."  Pretty much... that is the stigma for car sales, right?!?  Well, let me just tell you a little something about the Volkswagen Sales Manager, Josh Kidd... this guy and my salesperson, Larry, want to build relationships with their customers.  I live 
just outside St. Louis. There are approximately 4 Volkswagen dealers in this area. From the start, I felt like I was an inconvenience and just a number. I had the credit approved, money down... But the salesmen were horrible! I really didn't care if they got me the same deal as Green did... I was buying in Springfield! I went to Springfield to seek out this dealership and let me say, "WOW"... Am I really in a car dealership or am I just talking to some friends about a car?!  Yes... It was that kind of experience! Hands down the best car buying experience! Go see these guys and gals. It was totally worth the 3 hour drive!! The financing was a cake walk too! 10 minutes in and out. Remember... Go see Josh Kidd and Larry Weathers! They know their products and you'll feel great about the experience!
Glenna on Green Toyota Facebook page: 
Superb service!!  We have purchased our last 3 vehicles from Green Toyota and are very pleased with our purchases.  Salesperson went above and beyond for us- highly recommend Kirk- very knowledgeable.  Service department is fast, friendly, and courteous.  Finance Manager, Korey, was the best at taking his time to explain everything and not rush through paperwork.  Best experience we have had purchasing vehicles.  Purchased a 2015 4Runner and a 2015 Tundra... love love love our trucks!!!
Jeanette on Green Toyota Facebook page:  
I
 just had service done on my Scion this past weekend.  They are always so nice- especially Joe- and do a great job!
Eric on Facebook:  
If you have any doubt to where you want to take your car, take it to Green.  You will not be disappointed.  They are extremely professional and accommodating.  Thanks Green!  
Thaddeus on Green Toyota Facebook page:  
They were very fast with the service.  I made the appointment, brought the car in for the 40,000 mile check-up, oil change, tire rotation and they were done within 1.5 hours.  Gave me a chance to relax, have a drink, and some snacks.
Ashley on Green Toyota Facebook page:  
Thank you for the TWO awesome new vehicles, Dave Hudson!  You are truly 

knowledgeable

 about your product!  Super excited about the deals we got!!  Can't thank you enough!
Nichole on Green Toyota Facebook page:
I want to thank Dave Hudson for everything he has done for us with our recent purchase of a brand new Camry!  We are very pleased with the services too.  Thanks Dave Hudson!!!
Mark on Green Toyota Facebook page:
I just want to comment on the level of professionalism that Mylas Copeland and his sales team at Green showed me.  I went to Green Toyota the other day very angry about an issue I was having with my vehicle and I 

believed

 was being neglected and was not only loud but very rude and disrespectful with my actions and words.  Mylas and his sales manager, Jeff, I 

believe

 his name was.  Stayed very very professional during my 'rant' to say the least.  I went as far as to barge into Mylas' office while he was in the middle of a meeting... totally uncalled for on my part!  Mylas took me into his office and very calmly and professionally calmed me down and began to address the situation.  Turns out it was simply a break in the communication chain from the service department.  The sales manager, Jeff, handled that issue with the employee fast and firmly in my opinion.  I hope the employee didn't get into too much trouble but it did need to be addressed and it was.  Mylas introduced me to the service manager that was also very professional and genuinely concerned with getting my problem resolved.  So, I just wanted to apologize 

publicly

 to Mylas and his wonderful team and any customers that may have been in Green Toyota at that time.  The level of 

professionalism

 they showed was outstanding!!!  Not to mention the high level of attention and service being given to my vehicle.  I can honestly say that the way I behaved was completely uncalled for and inappropriate to say the least.  The Green team remained 

absolutely

 professional through it all and not only continue too but I 

believe

 honestly forgave me for the way I acted!  I give Green Toyota and it's staff 5 stars and the have gained a loyal customer for life and I will recommend Green Toyota to anyone I know looking for a new vehicle.  Thank you!!
Kourtney on Green Toyota Facebook page:  
I just purchased a 2015 Toyota Rav4 from Dave Hudson & had a great experience!!  Mylas, Russell, Korey... everyone involved in my buying process made everything so easy!  I am leaving a very happy customer!
Patricia on Green Toyota Facebook page:
Angela Mayham - Sought to meet all my needs in a vehicle.  Love my new car.  Will continue to buy my Toyotas at Green.
Tom and Becky on Green Toyota Facebook page:
We had a great experience buying our 2015 Rav4 from Gayland Scott at Green Toyota.  One of the best experiences in car buying I've ever had.  Thanks Gayland!
Amina on Green Toyota Facebook page:
What a beautiful color!!  My co-worker remarked when she noticed my new Toyota Highlander Limited Platinum.  Mark Bartel did a great job in getting me in my new car!  I love Toyota!!
Margaret on Green Toyota Facebook page:
Love my new Rav4 and my salesperson Mark Buckmaster was the best!
John on Green Toyota Facebook page:
Really like Green Toyota service!  Would give them 5 stars, but they just discontinued the Century Club which provided free oil changes to Toyota owners with 100,000 or more miles.  Guess there are too many Toyota's with high mileage out there.  It was nice while it lasted since we have 2 Toyotas that fit that category including our 1997 Camry that still runs great!
Pam on Green Toyota Facebook page:
Came in for a recall repair... in and out in under the projected time.  Friendly.  Professional.  Helpful.
Tom on Green Toyota Facebook page:
The deal was complex, I was planning on buying a Cadillac with a certain trade in car.  My wife was not satisfied with that and wanted to trade her car instead.  Unfortunately this made double the work for the guys at the dealership.  I do appreciate the extra effort that Green Toyota crew went the extra mile for us.  Thank you!
Deb on Green Toyota Facebook page:
Great people!  Our salesman, Loren, was fantastic and explained to us all the features of our new car.  Love my new Rav4!!!
Sheila on Green Toyota Facebook page:
Great shopping experience with Green Toyota!  Thanks to Mylas Copeland, Kenny Burge, Korey Scott, and Josh Walston.
Lucas on Green Toyota Facebook page:
Spent a few days looking at several different vehicles.  Jamie Jones was patient and willing to spend some time working with me to find an appropriate vehicle for my needs.  Thank you!
Rose on Green Toyota Facebook page:
Everyone was helpful and friendly when we were deciding on a new auto.  We want to thank John, Josh and all the other employees at Green Toyota for their patience and for helping make a decision.  Thank you again.
Jonathan on Green Toyota Facebook page:
Ordered a '16 Audi S5.  John Supinie and Mylas went out of their way to get the car ready so I could take delivery on Saturday morning around my schedule.  Thank you guys!
Stephanie on Green Toyota Facebook page:
Loren Pettit at Green Toyota was fantastic!  He was friendly, professional and honest.  He found the right car for us and has been great to work with after the sale, too!  We hadn't purchased a car in several years and Loren made it a pleasurable experience.  Thanks, Loren!
Richard on Green Toyota Facebook page:
I went into Green Toyota to get my car serviced.  A salesperson said that he could trade my car in and get me a smaller payment than what I was paying in a newer car than what I had.  I left the dealership with a new car!
Dawn on Green Toyota Facebook page:
The employees and service at Green Toyota are consistently are exceptional.  They really take the time to explain every detail and the atmosphere is so pleasant.  Keep up the good work!
Kate on Green Toyota Facebook page:
I believe that the employees of Green Toyota are the most pleasant people I've ever come across.  Always polite, making sure your needs are taken care of (and they were).  I am so glad I bought my Camry from Green Toyota.  Thank you for all the hard work that you do!
Melissa on Green Toyota Facebook page:
I couldn't be more satisfied with the staff at Green Toyota, from the top to the bottom!  Mark Bartel did a FANTASTIC job overall in educating me on the Highlander that I ended up purchasing.  A special thanks to Dave, as well as Mylas and Russell, too!  All the staff at Green Toyota conducted themselves in a very professional manner and were very knowledgeable about the vehicles and were always willing to answer the questions I asked.  I will recommend to all my friends that they visit Green Toyota if they want excellent service and a No #1 sales team!
Lee on Green Toyota Facebook page:
The only place I trust with my Prius service.  Top notch!
Debbie on Green Toyota Facebook page:
My recent visit to Green Toyota was like all the others.  I was greeted by their pleasant staff and the experience was great!!
Bob on Green Toyota Facebook page:
Outstanding product.  Outstanding people.  Purchase was easy with no pressure.
Susan on Green Toyota Facebook page:
Mark Bartel was fabulous to work with.  He was very knowledgeable, he listened to my needs, and is someone I would recommend to all my friends.  Green Toyota is the best.  Thanks!
___________________________________________________________________________
J.M on Green Toyota Google page:
First of all, I was privileged to have two hardworking, dedicated salespeople working with me!  Angela Mayham and Jamie Jones were the most attentive and helpful people for which I could wish!  From the test drive(s) to help me find the right fit for me, to taking me home to retrieve tags; explaining the new technology to me; and making sure I got the added protections I needed; they were very patient and informative.  My family has been buying products from Green before they moved to the current location, and have been satisfied or we would not keep coming back!  And that's the truth!
Tom on Green Toyota Google page:
We bought a used Cadillac at the Toyota dealership.  We found a few thins that did not work properly and floor mats were missing.  The tire pressure sensor, missing spare key, and radio was found defective, and all these jobs were sent to Cadillac garage to be repaired and replaced quickly and done well.  The missing floor mats were more of a problem they are not available from Cadillac anymore and the dealership could not find any.  I found a set of custom floor mats that work for me and was quickly reimbursed from Toyota for my trouble.  My salesman, Kenny Burge and his Sales Manager, have done a great job of being sure that I am very happy with the car and the deal.  I also appreciate the cookies and soda when I come in for the free car wash.  Thank you!
Travis on Green Toyota Google page:
I had an appointment within 24 hours of requesting one.  The service was quick and the representatives were polite and friendly.  My questions were answered promptly and 

thoroughly

. 
Robert on Green Toyota Google page:
Always receive excellent service! 
Nick on Green Toyota Google page:
Always receive excellent service!  I did not have an appointment but they were able to take my vehicle in right away anyway.  Everyone there was polite and courteous.
Harry on Green Toyota Google page:  
Here for scheduled maintenance.  Friendly, courteous, and quick.  No problems at all.
A Google User on Green Toyota Google page:   
I bought an Audi here, and the customer service was great!  It didn't stop after the sale, either.  I had a flat tire one day and didn't know what to do, so I called the dealership.  They sent someone over to me and let me borrow a car for the day.  By the time I finished a few appointments, my tire was fixed!  Great experience!
Sheryl on Green Toyota Google page:  
I was 

greeted promptly as always, the service coordinator listened carefully, and my car was serviced more quickly than I had anticipated.

 It's always nice to go on my way to complete the rest of my day in a freshly washed car, and know that safety is a matter of my attention to traffic, not concern for my vehicle, since every mechanical system is in good shape.  I feel like I'm in the best of hands with my Toyota service team.
A Google User on Green Toyota Google page:  
I have purchased 3 vehicles and I can assure you I will be back even though I moved over 120 miles away to the Northern part of Illinois.  They have always been very honest and fair with the deals we made and service has been top notch.  I even bought a VW Tiguan from them, it had issues and since I was on a time schedule for a trip, they refunded the full purchase price for the vehicle and purchased another Tiguan.  I realize that most dealerships won't do this and there were some extenuating circumstances with this situation, but they did not have to go above the way that they did to make sure the customer was satisfied, but they did.  I am currently looking for a pre-owned car for my son, and once one becomes available, we will be making the 120 mile trip to purchase from them.  I am sorry to see negative responses from others, but I've learned the way you treat people is how they treat you back.  My family is very pleased with Green Toyota/VW.
James on Green Toyota Google page:  
I had to have my 02 sensors replaced and they were good on estimates and getting my truck fixed in little over an hour.  I'll go back to them again.  
Patrick on Green Toyota Google page:
First time Toyota owner, and this was our first trip to the service department for the 5K mile tire rotation. Everything went smoothly, and I enjoyed the conversations with the shuttle driver and another new RAV4 owner on the way back to the office. They called when it was ready, and it was sitting out front squeaky clean when I came back to pick it up. They are definitely busy in there!
Cory on Green Toyota Google page:
Wonderful experience all around!
Conny on Green Toyota Google page:  
Our experience purchasing our new vehicle was very pleasant. Loren was extremely helpful and provided good information for us to make a thoughtful decision. I would highly recommend seeing Loren for your new car purchase!
Olajide on Green Toyota Google page:
Agents were very friendly and customer oriented. My car was serviced in a timely fashion and I enjoyed the waiting time at the boot.
Beth on Green Toyota Google page:
My first visit to the dealership for any reason - and the best "take a car to the dealer" experience ever. Thanks!
Donna on Green Toyota Google page:
After Scott left, Sean has been my go-to guy for any service/repair inquiry for my Q5. I always email him beforehand, be it scheduling regular service or installing an accessory. He responds timely when he can. I appreciate that he can accommodate my requests via email because calling the dealership and getting through to the service department is not always the easiest. Will definitely be coming back.
_______________________________________________________________________
Read our Toyota survey comments:  
William on a Toyota survey:  
Mark Buckmaster was our salesperson.  He was very engaging, friendly, and knowledgeable about the vehicle we purchased.  He was not pushy, like many car salespeople are portrayed.  He was very genuine and listened to our concerns and requirements for the vehicle.  We feel he went far beyond our expectations in getting us the EXACT vehicle we wanted.  
Don on a Toyota survey:  
I have purchased approximately 15 or more vehicles from Green Toyota over the years.  The salesperson did an excellent job with the selling/delivery of my van.  As long as Mylas Copeland is at the head of the business I will be a customer.
Jamel on a Toyota survey:  
Dave Hudson has been my salesperson for approximately 10 years and he has always been friendly, considerate, helpful, and very knowledgeable of the Toyota line of automobiles.  I plan to continue with Toyota and Dave Hudson in the future. 
Alice on a Toyota survey:  
We were extremely happy with our salesperson.  We appreciated his knowledge, honestly, and eagerness to make sure we had everything we wanted and knew how to operate all gadgets in our new car.  We would definitely recommend Dan Koeppel to all our family and friends.  
Bethany on a Toyota survey:  
My salesperson was AMAZING!  I worked with Tina Goodwin and she really helped me more than anyone else would have.  Thanks for everything!
Loretta on a Toyota survey:  
I appreciate the care, professionalism, and knowledge that Dan Koeppel displayed as he helped me select this great new Rav4.  Thank you, Dan.  Thank you, also, to Russell Hurst, who was instrumental in obtaining the Rav4 that fit my specifications and need.
Charles on a Toyota survey:  
I have purchased more than 6 vehicles over the past 5 years and I do not consider any other dealership or vehicle maker.  Green Toyota and Mylas Copeland turned me into one who looked mainly to traditionally American car makers to Toyota for the last 6 new vehicles that my wife and I have purchased.  The only thing that Green Toyota could change would be those things that would make me less likely to purchase from Green.  Sales, service, and employees at Green and Toyota make us loyal customers and that will likely not change in the future if the high standards are maintained.   
Corey on a Toyota Survey:
I know I'm not Green Toyota's number 1 customer, however, I've been treated like Green Toyota's number 1 customer.  Angela and Russell, as a team, made my purchase possible.  Without the TWO of them, I'd still be shopping...  I'm from out of town, was in Springfield only during the week I purchased.  They offered to deliver MY vehicle to my home if I were unable to take delivery on the day of the sale.  I ended up taking delivery the day of the sale, but the offer was a kind gesture to earn a customer.  They offered this even before I agreed to buy anything!  I am 100% satisfied with my 4Runner purchase.  When I'm again in the market for a new vehicle, it will be with Green Toyota.
Dean on a Toyota Survey:
Our salesperson, Angela Mayham, was incredible!  She was wonderful to work with.  She was there to help us and give us the best possible car buying experience we could ask for.  She is a great person!  Any issues that we had with the car were immediately taken care of.  The facilities are great.  You get a "homey" feel while at Green Toyota.
Gary on a Toyota Suvey:
We had the best experience with Gayland Scott!  We were very comfortable with Korey and the final paperwork process.
Nathan on a Toyota Survey:
Angela Mayham was wonderful!!!  Very knowledgeable and not pushy.  If there was anything she wasn't sure about- she found out.  Very good experience!!  The dealership/facilities are very clean and neat!
Roy on a Toyota Survey:
Greg Williams was an excellent representative for Toyota.  He was very courteous and knowledgeable and we were very satisfied with how he handled this sale.
Patricia on a Toyota Survey:
Green Toyota is very lucky to have a service rep by the name of Roy Gilmore.  He is always friendly, he answers any question, and he works very hard especially under recent conditions as staff levels were down.  Roy is a real asset to his employer.
Randolph on a Toyota Survey:
Gayland was AWESOME to work with!  He got us exactly what we wanted.
Claire on a Toyota Survey:
The service department was extremely busy, but did an excellent job getting me taken care of.  I had a question about my radio and Roy promptly and with a very pleasant attitude offered to accompany me to the car and show me how to take care of what I wanted.  Very pleasant person!
John on a Toyota Survey:
We were completely satisfied with our scheduling experience.  We were completely satisfied with our service experience.  It went great!  Everything was performed quickly and we were totally satisfied.
Debra on a Toyota Survey:
They worked with us after closing hours on a Holiday... exceptional service!  Thank you!
Michael on a Toyota Survey:
Wonderful!  They have a comfortable waiting area in service with mounted tv's and plenty of reading material.  Also, the dealership is very generous with snacks and drinks- hot and cold!!
Arthur on a Toyota Survey:
We have bought 4 vehicles from Dave Hudson and have been happy with him every time!  He has taken excellent care of us and always follow up after the sale (multiple times)!
Paul on a Toyota Survey:
Service guy, Joe, was excellent!
John on a Toyota Survey:
Joe Maurer is truly a nice guy.  I could tell that his goal was to exceed my expectations.  He is exceptionally courteous and conscientious.  My advice to you- keep him happy!
Jennifer on a Toyota Survey:
The woman, Laurie, that make my appointment was very helpful and friendly.  
Patricia on a Toyota Survey:
The guys in the service department are very friendly and very helpful.  Work was done in a timely fashion and I LOVE the car wash they offer at the end!  Thank you!
Robert on a Toyota Survey:
I worked with both Jamie Jones and Tina Goodwin.  They were both very good.  Neither of them initially pushed me to buy and that is a big plus to me.  Had they given me a very aggressive shove to buy- I would not have returned.  I have no complaints and I enjoyed working with them and Korey.
Jonell on a Toyota Survey:
I felt that Mark Bartel presented the information as a professional and offered us warranties with a no pressure approach.  The dealership is clean and quiet.  I appreciated the cars inside to view- some of them are remarkable in style and design.  The parking lot at Green is large and allowed for easy navigation.  We felt that he got us the best fair price available for the car that we bought.
Hours
Monday

8:30 AM-7:00 PM

Tuesday

8:30 AM-7:00 PM

Wednesday

8:30 AM-7:00 PM

Thursday

8:30 AM-7:00 PM

Friday

8:30 AM-7:00 PM

Saturday

8:30 AM-6:00 PM

Sunday

Closed